Voice recorders
KODAK VRC450
Functionality for every occasion
The compact metal design and intuitive operation of the KODAK VRC450 digital voice recorder is your convenient every day option for instantly recording quality audio in WAV/MP3 formats. Its lithium battery and micro-SD card slot make it equally suited to recording brief ideas or several hours of interview, and is adaptable to any use thanks to its hands-free recording and noise reduction functions. Its many advantages include its loudspeaker and its Plug & Play technology making it easy for you to listen to and take full advantage of your saved recordings.
See features
The VRC450 has 22-hour autonomy thanks to its integrated lithium battery, as well as a recording capacity of up to 725 hours with the insertion of a micro SD card (not included) in the dedicated port. Whether it's to keep track of your ideas or to avoid tedious note-taking, it has very useful functions such as voice-activated and automatic recordings to keep listening in all circumstances, as well as a choice of four scenarios to save recording settings that are perfectly suited to your environment.
Plug & Play technology will allow you not only to easily transfer your recordings to any computer, but also to download music so you can use it as an MP3 player! Finally, it is also fitted with a loudspeaker and two 3.5 mm mini-jack sockets for stereo input and output, giving you the comfort of listening to your recordings again, with or without the included headphones, and for connecting an external microphone for optimised sound capture.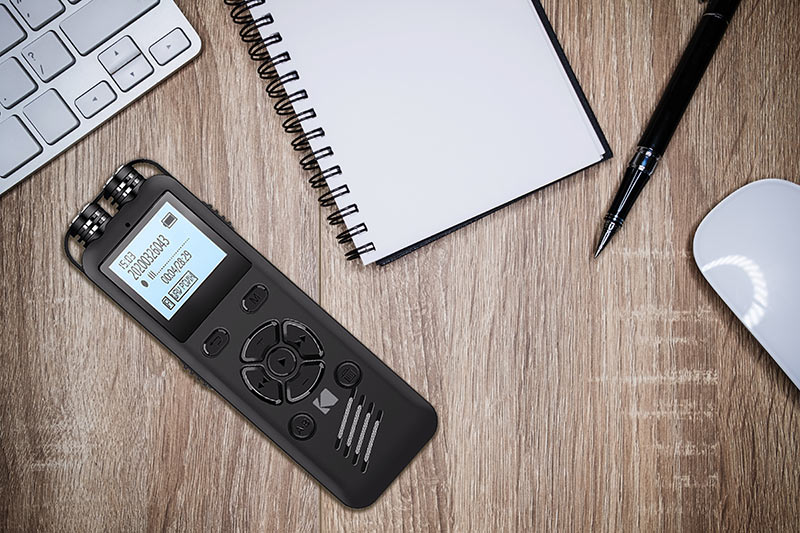 Data sheet
Screen

Backlit 1.4 inch

Internal memory

8Go

Power

Li-battery

Dimensions

Weight

Content

Recording type

Mono/Stereo

Recording formats

MP3/WAV

Memory card slot

YES (up to 32GB)

Max recording capacity

581 hours

Autonomy

22 hours

Instant recording button

Yes

Voice-activated recording

YES

Noise reduction function

YES

Plug & Play

YES

Material

Metal